VINDICATION!!!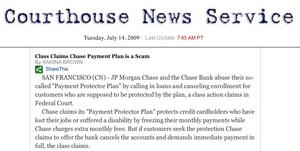 CHASE BANK SUED FOR NOT HONORING CREDIT PROTECTOR
FEDERAL LAWSUIT FILED AGAINST CHASE BANK CREDIT PROTECTOR PROGRAM!
Several years after I first created this website, a federal lawsuit has now been filed against Chase Bank's Credit Protector Program. This website's position all along has been that any insurance policy that in almost all cases pays out less to a claimant that what the paid into the system within the first year is basically insurance fraud.

After the first year, the odds become even smaller that credit protector's ongoing monthly costs can be justified. Chase Bank Credit Protector Program Lawsuit.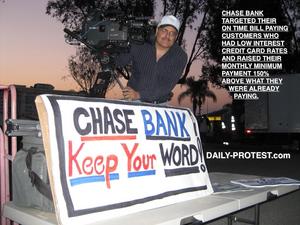 CREDIT-PROTECTOR HAD ALREADY WARNED READERS.
This Website's Credit Protector Warning Proves Accurate.
This website primarily focused the COST of Credit Protector being anywhere from 4-8 times higher than what it should be. However, not only does the credit protector program appear to overcharge if one does not use the service, it now appears Credit Protector does not always deliver even when somebody does file a claim.

The phrase "adding insult to injury" comes to mind. If one never uses the credit protector policy, then money that could have gone to actually paying down the credit card debt has been suctioned away. If one actually files a credit protector claim, there is a chance there will be a runaround and one won't get much of a payout, or satisfaction.

As I have been saying all along, it appears that not only is credit protector one of the biggest all time consumer rip off programs from a cost to benefit analysis, it also appears that Credit-Protector scrimps on the benefits when it comes time to actually pay a claim.
CHASE BANK, KEEP YOUR WORD!
CHASE BANK, THE LIST OF BAD BEHAVIOR JUST GROWS AND GROWS.
In my opinion Chase Bank is out of control. I had to start TWO BLOGS to highlight Chase Bank's unnecessarily aggressive and I what I believe to be anti consumer behavior.

All told I now have started and maintain FOUR websites/blogs that attempt to protect consumers from unethical corporate acts.

However, nobody has yet come forward to temporarily Share A Million.com.

What has proved most ironic is that my Share A Million offer may have kept more money in the donor's pocket in the long run than what ended up happening with the stock market in 2008.

I'll do as much as I can without any support, but that can only last up to a point. Nonetheless, I'm still very proud of my efforts on all four of my websites, Credit-Protector.com, Credit-Card-Cap.com,
BLOGGERS AGAINST CHASE BANK.com, and Daily-PROTEST.com.

Bloggers Against Chase Bank and Daily-Protest.com are my two most recent efforts combating Chase Bank and what I believe are their harsh, harsh actions towards millions of their own customers.

Below are more links to warn you, the consumer, about how badly Chase Bank appears to be treating their own customers.

VOTE FOR THE CONSUMER RIGHT TO OPT OUT WHEN A BANK CHANGES TERMS AFTER AN AGREEMENT IS ALREADY IN PLACE.

CONSUMERS to lose 100 MILLION to 1 BILLION DOLLARS A MONTH BECAUSE OF CHASE BANK'S RAISE IN THE MONTHLY MINIMUM PAYMENT ON LOW INTEREST CREDIT CARDS.

ChangeinTerms.com

CREDIT CARD COMPANIES ME FIRST AGENDA IS CAUSING SOME STATES SERIOUS FINANCIAL LOSSES.

OVER ONE THOUSANDS LETTERS OF FEAR AND LOATHING AGAINST CHASE BANK IN LESS THAN 3 MONTHS AT CONSUMER AFFAIRS DOT ORG.

Chase BANK SUED FOR FREEZING HOME EQUITY LINES.

Jamie Dimon's Competence Called into Question by John Kay.
It has been said of CE of JPMorgan Chase, Jamie Dimon (who does not have a banking qualification), that his dominance exists because at every meeting all the participants know that he could do each of their jobs better than they could. But the business world cannot operate at all if it can operate only with individuals of the calibre of Dimon. --John Kay